Disturbing Behavior
is a 1998 film starring James Marsden and Katie Holmes. It was featured on Treatment 229. The treatment was released on June 28, 2015.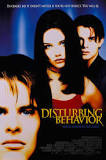 The Movie
Edit
The new kid in town finds that almost everyone in his school is acting a little too "perfect." Sensing something strange is happening, he and a new friend decide to find the truth behind their classmates' disturbing behavior.
The Treatment
Edit
In covering this movie, hosts Matt Ringler and Doug Frye declare June an "impromptu Dawson's Week," despite only covering movies with connections to the show for two weeks out of the month.
In the pre-show banter, Matt and Doug reveal that their regular room at Schlock Treatment Industries has once again been overrun with "nerds," and comment on the different (and somewhat better) sound quality the new room affords.
Matt and Doug then workshop ideas for the new Shanghai Dawn movie they've been discussing in recent weeks before moving on to the mailbag segment, where Genericusername answers a barrage of questions and demands for the Schlock Treatment Wiki. He also mentions his university registration (which later ends up confusing the hosts about his age, as he was referring to course registration) and try to formulate a plan for him to intern with Schlock Treatment in New York despite his previous experience with the city. Spencer clears up the reasons his family watched Thinner for a family movie night, talking about his Dad's love for Steven King, and lists some other movies screened during these events. Matt declares a new "Spencer Saga" is beginning, and the hosts immediately become confused about Spencer's story, saying it makes less sense than the Genericusername Saga.
Matt is pleased to confirm his idea from the previous week's Treatment that "Flagpole Sitta" is featured prominently on the soundtrack for Disturbing Behavior. Matt enjoys Katie Holmes' performance "a grunge," but Doug disagrees and doesn't find her believable in the role. Matt sums up the movie as fun even if the plot is fairly ludicrous. Doug agrees, saying thinks that the movie is better than the previous week's Texas Rangers.
---
Listen to Treatment 229: [[1]]