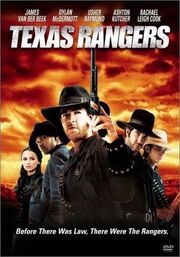 Texas Rangers
is a 2001 film starring James Van Der Beek, Ashton Kutcher, and Dylan McDermott. It was featured on Treatment 228. The Treatment was released on June 28, 2015.
The Movie
Edit
Two young men witness a deadly bandit attack on a small Old West town, and decide to join up with the Texas Rangers in an attempt to bring law to the state of Texas. The film features fictionalized versions of several real-life Texas Rangers, and takes a number of liberties with historical facts. The full version of the film is 110 minutes long, but it was cut down to 90 minutes for the theatrical release.
The Treatment
Edit
Matt Ringler and Doug Frye host this episode, and almost immediately create two new characters: Bill Tompkins; a guide at the Bronx Zoo, and Shoebox Jr.; blues legend. In the mailbag segment, Matt and Doug cover listener comments from the past two episodes and announce the new Schlock Treatment Wiki. They are somewhat taken aback by Spencer's revelation that he watched Thinner (featured on Treatment 226) as part of a family movie night. Matt also confirms Genericusername's assumption from Treatment 226 that the late night sports card informercials Matt watched were hosted by beloved pitchman Don West.
Due to the presence of James Van Der Beek and Ashton Kutcher in the film, there is much discussion of the TV series they starred in, Dawson's Creek and That '70's Show, respectively.
Matt discusses the awkward use of swipe cuts in the film, and determines that Texas Rangers is yet another movie that could be improved by adding the Eddie Money song "Take Me Home Tonight" to the soundtrack.
The film's director, Steve Miner, prompts the return of fan favourite characters The Miners, and Doug reveals that he went to New York Film Academy at the same time as Miner (but not really since Miner was already an established director at the time) and Married with Children star David Faustino.
Doug concludes that the movie is an average Western, not terrible, but not very good either. Matt disagrees, and says that the only interesting part of the film is the strange casting.
---
Listen to Treatment 228: [[1]]